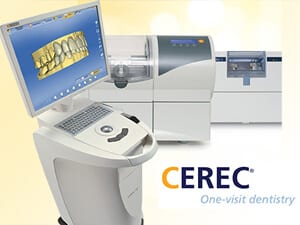 Same Day Crowns Humble Texas
Summer Creek Dental is now offering Same Day Crowns in the Humble Texas area! Get your crown fitted the same day it's made. We can have you smiling in no time!
CEREC Same Day Crowns and Onlays
Dr. Thibodeaux is certified to use the new CEREC crown restoration system. The latest in single day crown replacement technology, the CEREC milling system enables patients to receive a custom fitting tooth in a few hours. Gone are the days of returning in two weeks to see if your new crown fits. Your teeth can be back to normal in the same day!
We can build a custom-fit, long lasting, natural colored crown in one appointment! No repeat visits, no unsightly temporary crowns.
Chairside Economical Restoration of Esthetic Ceramics or CEREC uses CAD/CAM technology, incorporating a camera, computer and milling machine in one instrument. Dr. Thibodeaux uses a special camera to take an accurate picture of the damaged tooth. This optical impression is transferred and displayed on a color computer screen, where we use CAD (Computer Aided Design) technology to design the restoration. Then CAM (Computer Aided Manufacturing) takes over and automatically creates the restoration while you wait. Finally, Dr. Thibodeaux bonds or cements the new restoration to the surface of your remaining tooth structure. The whole process takes about two hours on average.
What does this mean for you?
The crown is natural-looking, compatible with tissue in the mouth, anti-abrasive and plaque-resistant. There is no need for temporary crowns or the need to take impressions and send them to a lab. CEREC has over a decade of clinical research and documentation to support the technology. The restorations have been proven precise, safe and effective.
Summer Creek Dental ensures that we have the correct options in place for your patient convenience. We accept the majority of dental insurance providers, care credit, and other financing options as well. You can click the link here for additional Financial Information.
Give Summer Creek Dental a call today!