Business Hours



Mon: 7am-3pm




Tue: 7am-3pm




Wed: 7am-3pm




Thur: 7am-3pm




Fri-Sun: Closed
We'll Give You A Reason To Smile
Summer Creek Dental is your home for advanced general dentistry in the Humble Texas area. Dr. Tammie Thibodeaux DDS & the amazing Summer Creek Dental team can help with a wide variety of general dentist related needs.
Our state-of-the-art dental facility will accommodate you and your family as a patient at Summer Creek Dental. We're the first choice for your dentist in Humble TX.
In addition to our brand new, very clean patient rooms, we also offer free WIFI, refreshments, high definition satellite TV & cozy lounging areas.
Finding a dentist can be hard, so we like to make it easy for you. We'll spend as much time as you need discussing plans and what services we offer. That's our way of showing how much we care about your smile.
Although other dental offices may list you as just a number, you're a face here. We work everyday to make your smile as beautiful as it deserves to be. Our team offers a large variety of services to keep your pearly whites perfect.
We have a variety of dental services. Let us know how we can help. Summer Creek Dental is here to care for you. Our new office is ready to help your whole family. Just one quick phone call can save you and your smile. Your smile is our passion!

Care Credit Application


Springstone Patient Financing


DocPay Application


Worry-Free Guarantee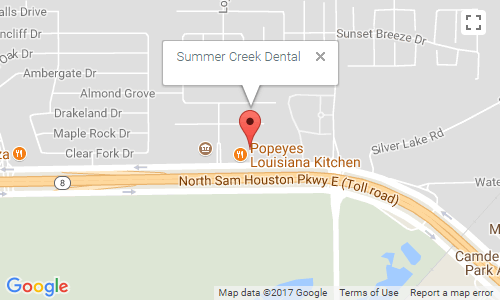 Summer Creek Dental
11501 N. Sam Houston Pkwy East Suite C
Humble, Texas 77396
(281) 454-2000