If you're looking for a new, great dentist in the Humble, Texas area, look no further than Summer Creek Dentistry. Summer Creek Dentistry is an all-inclusive dental facility that handles all aspects of dental care including general procedures (cleanings, flouride treatments, exams, fillings and more), cosmetic dentistry (veneers, teeth whitening, invisible braces), restorative dental care (root canals, crowns, bridges and more), and other types of dental procedures such as dentures, TMJ and Gum Disease care, oral surgery, and more. They can also assist with all types of emergency dental care for lost or broken teeth and other emergency situations in which you are bleeding or in pain. Don't wait if you have a dental emergency; call a reputable emergency dentist right now.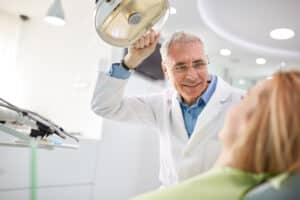 Emergency or non, no matter what type of dental care you need, the experienced and friendly staff at Summer Creek Dentistry would be glad to put their expertise to work for you. Both Dr. Thibodeaux and Dr. Dar are experienced and knowledgeable dentists whose high-quality work will help you put your best smile forward. The staff at Summer Creek are always focused on your comfort and safety when it comes to your specific dental needs, whether you're in need of a simple filling, a crown, or veneers. They put equal emphasis on high-quality work whether it's restorative, cosmetic, emergency or general care, so no matter what procedure you're having, you can guarantee that they are giving you the very best in quality care. 
Too many people these days put off dental care until it's too late. What you might think is a simple issue can lead to much larger dental problems later down the line, such as cavities, broken teeth, abscesses, infection or gum disease. It's always best to nip dental problems in the bud by contacting a dentist sooner rather than later to get your teeth taken care of. For those who find financials a concern, the team at Summer Creek can assist you with payment options as well as financial assistance such as Care Credit. Just reach out to someone to inquire about your many options. 
The dedicated team at Summer Creek will take the time to sit down with you and talk about your needs and concerns, working together to find the best treatment options, taking into consideration your budget and any anxieties you may have. There's a reason that patients all over Humble Creek choose to work with Summer Creek Dental. With high-quality dental work, great customer service and a focus on safety and comfort, they really do put their patients first and foremost. 
You can contact the team at Summer Creek dental to make an appointment by giving them a call, or simply visiting their website to fill out a contact form. No matter what type of dental procedure you need, from a routine cleaning to getting fitted for dentures, their dedicated staff will help you every step of the way in getting that smile exactly where you want it.