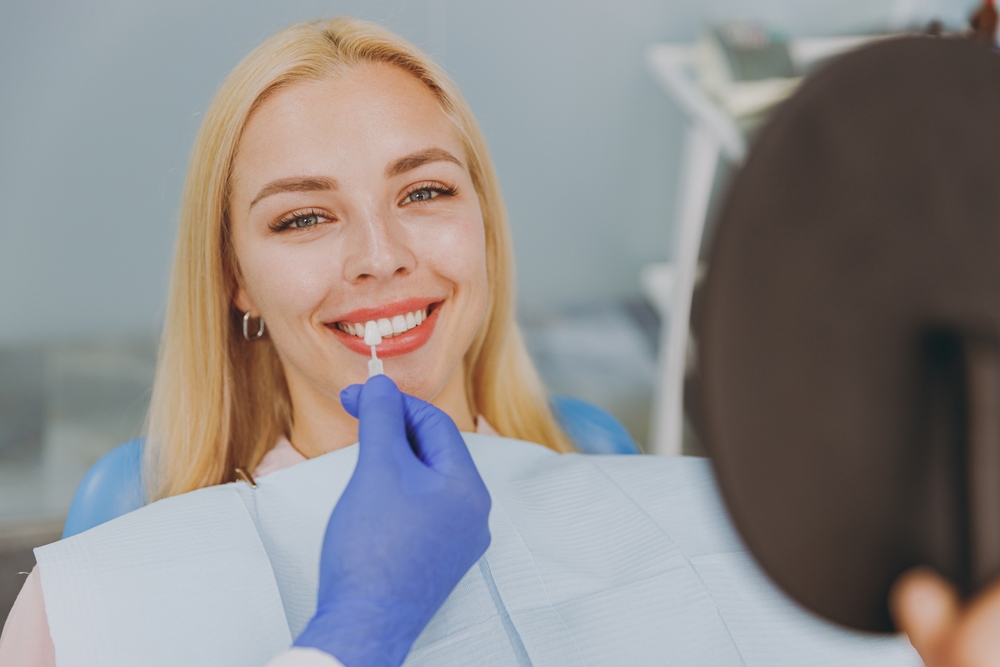 Welcome to Summer Creek Dental, where we offer exceptional dental care to our local community. With advanced state-of-the-art technology and treatment, we can transform your smile with dental veneers in Humble, Texas. Whether you have discolored, chipped, or misshapen teeth, Dr. Tammie Thibodeaux and Dr. Katherine Price can help you achieve the smile you've always dreamed of. 
What are Veneers?
Veneers are a popular cosmetic dentistry option for those looking to improve the appearance of their teeth. We build veneers out of medical-grade porcelain to cover the front surface of teeth to enhance color, shape, or size. Veneers are also a long-lasting solution, with proper care and maintenance. On average, veneers can last anywhere from 5 to 15 years, making them a worthwhile investment in oral health. Additionally, veneers are stain-resistant, making them an excellent option for those who regularly consume foods and drinks that can cause tooth discoloration.
Who Needs Veneers?
Dental veneers suit various dental concerns, including discolored, stained, chipped, broken, or misaligned teeth. Veneers can close gaps and give your smile a more uniform and straight appearance.
Benefits of Veneers:
Veneers offer various notable benefits: 
Improved Appearance.

Veneers can completely transform the look of your teeth and give you a beautiful, natural-looking smile. We can whiten veneers to your preferred level of brightness. 

Durable and Long-Lasting.

We construct veneers from high-quality materials that can last years. With proper care, veneers can last up to 10-15 years or longer.

Stain-resistant.

Unlike natural teeth, veneers are highly resistant to staining from food and drink. This benefit lets you enjoy your favorite foods and beverages without worrying about discoloration.

Conservative Treatment.

Veneers are a minimally invasive treatment that involves only a tiny amount of tooth preparation. This process leaves your tooth structure intact.

Instant Results.

Veneers can dramatically improve your smile in just one or two visits. Fast results mean you can enjoy a new, beautiful smile in less time.

Unique and Customizable

: Veneers are custom-made to fit your smile and facial features. This high level of customization means you can choose your veneers' size, shape, and color to achieve your perfect look. 

Boosts Confidence:

A beautiful, healthy smile can make you feel more confident personally and professionally. Veneers can help you achieve the smile of your dreams and give you the confidence to show it off.

Easy Maintenance:

Veneers require only routine dental hygiene care, such as brushing and flossing, to keep them clean and healthy. Proper care lengthens the lifespan of your veneers and maintains their beautiful appearance.
Veneer Treatment Process: 
The procedure for receiving veneers typically involves two appointments. We'll prepare the tooth during the first appointment by removing a thin enamel layer. This process will make room for the veneer and increase its stability and longevity. We'll send an impression of your teeth to a dental laboratory, where they will create your custom-made veneers. This process may take a few weeks. 
Once the veneers are ready, you'll come in for the second and final appointment. Before setting your veneers in, we'll make any necessary adjustments to ensure a perfect fit and natural-looking appearance.
Dental Veneers in Humble, Texas
At Summer Creek Dental, we understand the impact a beautiful smile can have on your life, and we are committed to helping you achieve the smile you deserve. Our high-quality veneer treatments can help you achieve a natural-looking, bright smile lasting for years. Our experienced team of dentists, led by Dr. Tammie Thibodeaux and Dr. Katherine Price, use the latest techniques and materials to ensure your veneers are durable, long-lasting, and ideally suited to your unique needs. 
Contact us today to schedule a consultation and take the first step toward your dream smile.